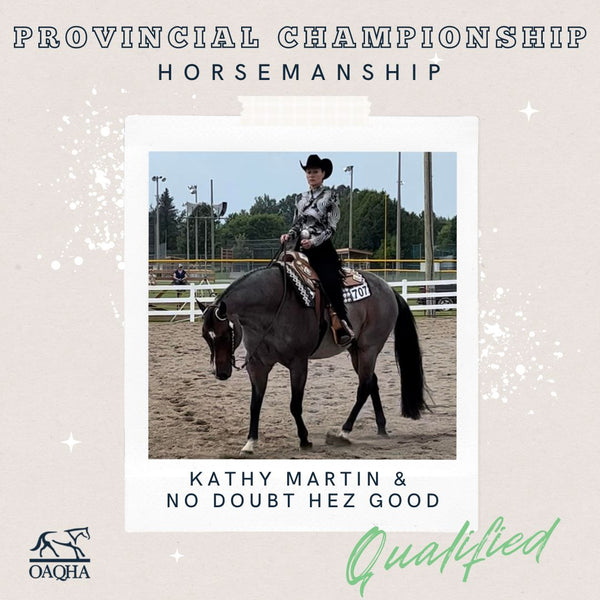 Kathy Martin & No Doubt Hez Good
The Horse
No Doubt Hez Good, aka "Buddy" is a 2011 gelding by Absolutely No Doubt and out of A Sea of Dreams. Something most people wouldn't know about Buddy? "When I introduced Buddy to my daugther, she was about 2 weeks old. Buddy was really nice to her. But the next day, she was crying in the stroller. He was so scared and it was a learning curve for him to understand it was a baby. He really did not like her crying and not seeing her. Eventually, he got used to the stroller and now, they are really good buddies."
The Exhibitor
Kathy has been riding for 34 years, having started at the age of 3. She's been showing AQHA for 32 years. When asked about her favourite event she responded "It is pretty equal between Trail, Horsemanship and western riding."
The Team
Kathy bought Buddy as a yearling, 11 years ago! They've earned many achievements along the way, and Kathy reflected on some proud moments "We made couple of top ten at the Congress in Trail and western riding in junior classes when he was 3, 4 and 5 years old. Also at the world show, we got a tie for 10th in level 2 junior Trail when he was 4yo and finalist level 2 junior western riding when he was 5 yo."
Kathy unfortunately won't be able to attend the Provincial Championship Horsemanship Finals, but shared "it was really nice to know that we qualified when Buddy is still really Green in Horsemanship. I wish everyone good luck and have fun!"