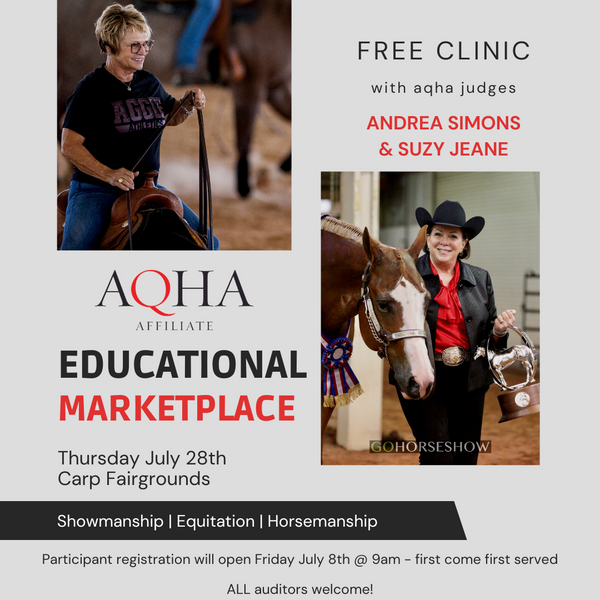 Educational Marketplace - Free Clinic - July 28th @ Carp Fairgrounds
With thanks to an AQHA International grant, we are so excited to offer our members this outstanding learning opportunity. 
Thursday July 28th we will be hosting two esteemed AQHA judges, Suzy Jeane & Andrea Simons, for a clinic focusing on the patterned events: Showmanship, Horsemanship, and Hunt Seat Equitation. This clinic will be FREE for members to participate in and audit. We are expecting a significant amount of interest and will need to cap participation. As such, we will be posting a registration form at 9am this Friday July 8th and participation will be first come first served. 
About the Clinic:
To be held at the Carp Fairgrounds, July 28th 2022 (between the two EOQHA show circuits) 
Events offered: Showmanship, Horsemanship, Hunt Seat Equitation 
FREE to audit and participate. Must be an OQHA member to participate. 
Made possible by AQHA International 
About the Clinicians:
Suzy Jeane
Texas A&M equestrian assistant coach Suzy Jeane was named the Most Valuable Professional by the American Quarter Horse Association in March of 2022
 
Jeane currently serves on the AQHA board of directors for Texas and is a member of the AQHA youth activities committee. In total, Jeane has been serving in TQHA for over 30 year. She has volunteered athorse shows in official capacities to donating her World-Famous Whiskey River Cake to auctions to benefit the Association. 
 
Jeane is the first female to serve as President of National Snaffle Bit Association and was named AQHA Professional Horsewoman in 2004. She was inducted into the NSBA Hall of Fame in 2012. Jeane also served as manager for Team USA in the AQHA Youth World Cup. She is an AQHA judge and Clinician.
 
In her fourth season with Texas A&M, Jeane serves as assistant coach working with the Horsemanship team.
Andrea Simons
Andrea Simons is a longtime breeder, clinician, judge, and coach/trainer of American Quarter Horses and American Paint Horses. She has held her judges card for over 35 years and holds a card with AQHA, APHA, NSBA, ApHC, NRHA, and NRCHA. 
GoHorseShow.com article by Andrea Simons. 
How to Register:
A Google Form will be posted to our website and Facebook page at 9am Friday, July 8th. We encourage all who are interested in participating to watch out for the form and fill in ASAP as riding/showmanship spots will be filled on a first-come-first-served basis. 
You must be an OQHA member to participate in this free opportunity. If you are not currently a member, be sure to purchase an OQHA membership before Friday. 
ALL auditors are encouraged and welcomed! 
If you have questions, please reach out to oqhamallory@gmail.com