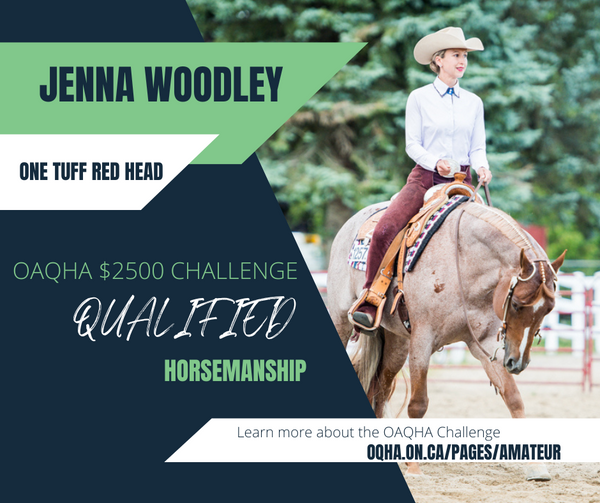 Jenna Woodley & One Tuff Red Head
As one of the Top 5 Non-Pro scores from EOQHA's Hot Hot Sizzler, Jenna Woodley and her (daughter's) horse One Tuff Red Head have qualified for the OAQHA $2500 Challenge Finals in Horsemanship! 
Read on to learn more about Jenna & "Reba"
About the Horse:
One Tuff Red Head, affectionately known as "Reba" is a 2013 mare by VS Code Red and out of an Invitation Only mare named Grace By Invitation. She was proudly bred right here in Ontario!
About the Exhibitor:
Jenna is an Amateur exhibitor and horse show mom. She is a third generation horsewoman, has been an AQHA member since birth and showing herself since leadline. 
About the Team: 
Jenna shares, "We've had Reba for 2 years but with covid this is our first full season showing her. She's really Mackenzie's horse but she let me borrow her for the showmanship and horsemanship in order to qualify for the finals."
The OAQHA Challenge Finals will be held at the OQHA Summer Finale. Click here for more details. 
Sincere thank you to the Canadian Quarter Horse Association for making this initiative possible.