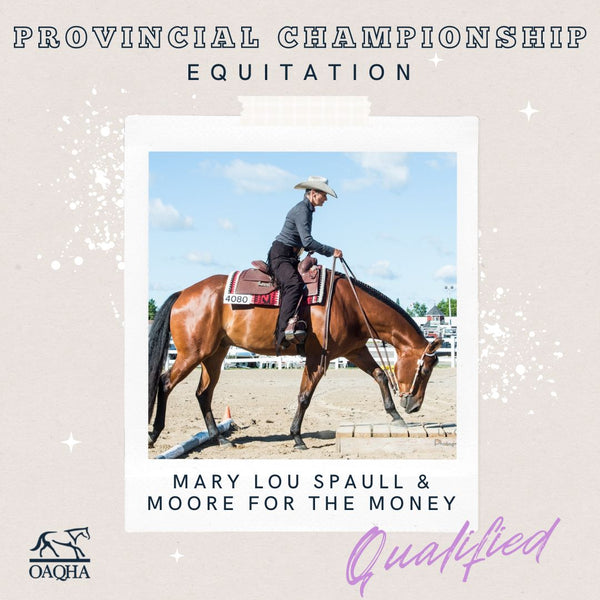 Mary Lou Spaull & Moore For The Money
The Horse
Moore for the Money, or "Bug", is a 2016 gelding by Zippo Can Do and out of High Tech Bonanza. He was bred by the late Tom Moore, hence the name. "Bug loves wintergreen mints and will practically turn himself inside out to get one from me. He loves trail riding on our trails on our 200 acre farm in White lake."
The Exhibitor
Mary Lou has been riding since she was a kid but did not have a lesson until the age of 33! She shares of her experience, "that was with Lynn Palm when I drove to her facility "Royal Palm Ranch" in Bessemer Michigan. Talk about an experience , I learned so much from her !! I have two mentors , one being Lynn the other a Canadian reining trainer, Roger Brazeau, from Quebec, an NRHA hall of fame inductee that had done some training on one of my other horses." When asked about her favourite event, Mary Lou responded "I love the all around events, I enjoy the trail and the horsemanship, and equitation , but I do like the HUS classes as well as Bug is a good trotter."
The Team
Mary Lou purchased Bug sight unseen from the Findlay horse sale at the age of 2, "I had been in touch with a student I had befriended the previous year at Findlay, Brandon Morin and had asked about this horse in the sale. Brandon replied 'love love love him , he just needs to grow physically'. He had a good start on him by an apt pupil, Dylan Lewis. Mary Lou reflects on her proudest moments, "He is a very forgiving type and I was so proud when he was shown by my 8 year old grand daughter Kai at Carp for her first time in Halter and showmanship this year . He was a very good boy for her.    Bug has big shoes to fill following after my other horse Harley (Im all Scotched up) that earned his Amateur championship. I have always had a motto " do what you can , while you can", and as we select riders get older it's more important to get out there and keep doing it."
Mary Lou unfortunately won't be able to attend the Provincial Championship Finals, but wishes everyone good luck and says "remember to enjoy the ride!"