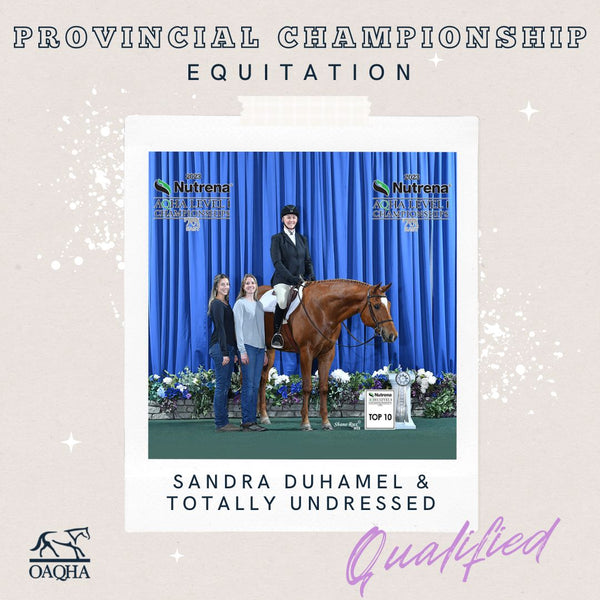 Sandra Duhamel & Totally Undressed
The Horse
Totally Undressed aka "Dougan" was born in 2013 making him 10 this year. He is by Dress Western and out of Totally Innocent. Dougan is Canadian Bred.  
The Exhibitor
Sandra has been riding since she is 13. Showed open shows for most of her youth years an starting showing AQHA when she was around 16. When asked about her favourite event, Sandra shared "definitely trail, and Dougan and I are finally starting to have some solid rides."
The Team
Sandra and Dougan have been a team for 8 years now, since Dougan was just a 2yo! Sandra has two proudest moments so far this year, "finishing in the top 10 at the Level 1 Championships and finishing 3rd in the Showmanship Challenge at the EOQHA Summer Sizzler." In terms of upcoming goals, Sandra hopes to be in the finals at the 2024 Level 1 Championships.
Sandra shared, "what I am most looking forward to about the Provincial Championships is the whole thing. The recognition, the fun, the camaraderie and being able to compete with the best Ontario has to offer."