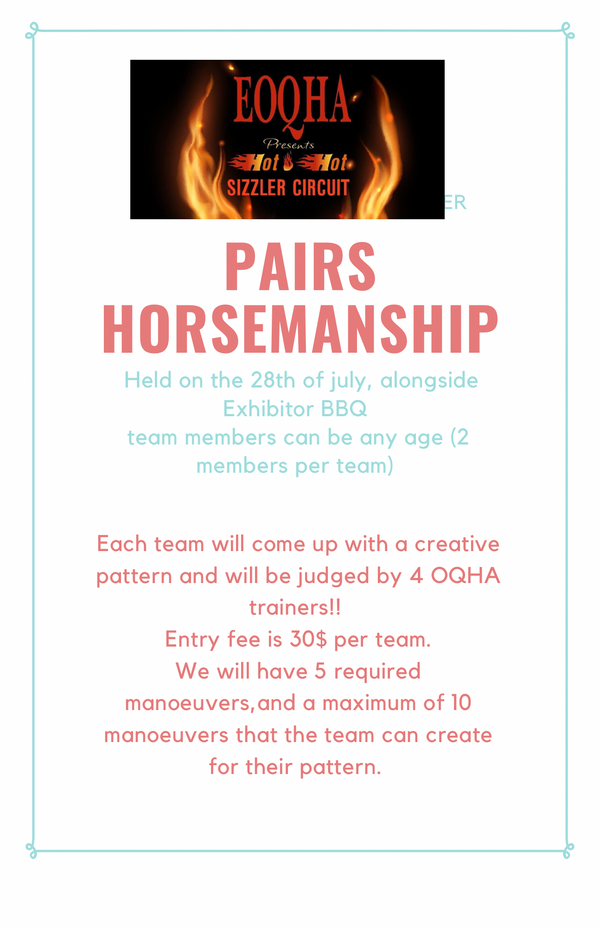 FUN OQHYA Fundraising Events @ Carp Show
The Youth will be hosting two fun events at the EOQHA Hot Hot Sizzler coming up in Carp. 


Pairs Horsemanship 
Grab a teammate and get your creative juices flowing for the Pairs Horsemanship! Scheduled for Thursday July 28th after the Educational Marketplace Clinic and during the Exhibitor BBQ. 
If you're not participating in the class you can still be a part of the fun! We will be having a Calcutta auction where you can bid on your favourite team(s) to unlock the potential to win big! 


Teams can come up with their own pattern - creativity encouraged! Just be sure to follow the guidelines below: 
10 maneuvers 
Must include: Simple OR flying lead change, extended jog, extended lope, 360 turn either direction, back up 
Calcutta winnings will be based on the OVERALL High Score but there will be prizes for participants based on the following categories: 
Most creative pattern 
Best music choice 
Best F&E
Best costume/theme/outfit 
Most in unison
Highest score overall 
This event is sure to be a ton of fun, so find a partner ASAP and enter at the link below! Otherwise, be sure to come and watch and support the teams at ringside. 

Registration Form
Doggie Trail 
On July 30th the Youth will be hosting a Doggie Trail event! Bring your pup out to have some fun! 

If you have any questions about either event, please reach out to OQHYA President Taylor Carney: taylorcarneyy@gmail.com