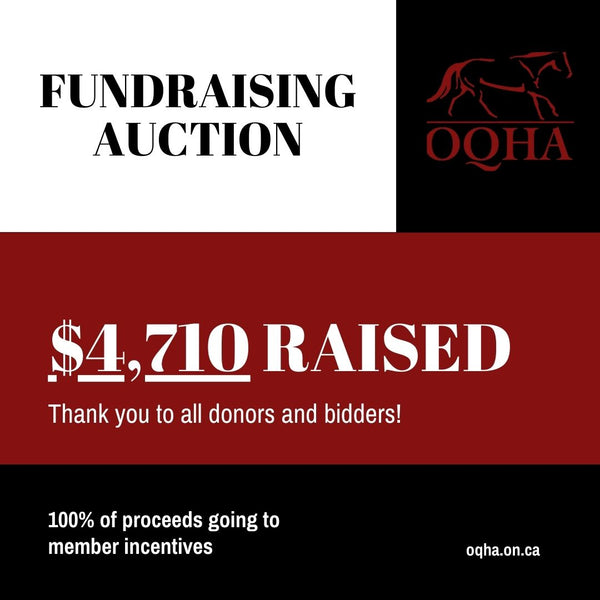 Fundraising Auction Winners/Wrap-Up
OQHA sends a sincere thank you to all bidders and donors! The Fundraising Auction brought in a total of $4,710 in bids which will have a great impact serving the membership. 
If you are a winner, please keep an eye on your inbox! Invoices with a button to pay for your items will be sent by end of day February 7th. From there OQHA will help to connect you with your item/service. 
| | | | |
| --- | --- | --- | --- |
| Item | Donated By | Winning Bid | Winning Bidder |
| Lesson: Dewar Performance Horses | Andrew Dewar | $50.00 | Audrey Costello |
| Breeding: TheWayTheWestWasOne | Jane Cryderman | $600.00 | Carol Holmstrom |
| Relaxation Gift Basket | Hailley O'Brien | $54.00 | Cathy Aker |
| Deluxe Show Pad | Lucas Alcock | $95.00 | Cathy Aker |
| Breeding: Keeping It Awesome | Tracy Dinely | $500.00 | Diana McGill |
| Lesson: Kathryn Stanton | Kathryn Stanton | $38.00 | Gloria White |
| Virtual Lesson: Horsemanship with Robin Frid | Robin Frid | $255.00 | Holly Robinson |
| Bemer Horse Set 1 Week Rental | Leanne Karoles | $120.00 | Janine Domingos |
| Truck & Trailer Toy Set | Sherrill Tisdale | $40.00 | Joanne Vandergunst |
| Stall Bag by Painted Dreams | Autumn Miller | $75.00 | Joanne Vandergunst |
| OQHA Swag - Sweatshirt + Hat | Janna MacMullin | $115.00 | Joanne Vandergunst |
| Virtual Lesson: Showmanship with Jenny Frid | Jenny Frid | $280.00 | Katie Thompson |
| Custom Painting by Sarah McConaghy | Sarah McConaghy | $145.00 | Krista Vis |
| Arbonne Gift Basket | Corey Taylor | $90.00 | Krista Vis |
| Clint Fullerton Clinic | Andrew Dewar | $390.00 | Mallory McKewen |
| In-Stride Chiropractic/Rehab - Current Patient Treatment | Sarah Donaldson | $47.00 | Mallory McKewen |
| In-Stride Chiropractic/Rehab - New Patient Treatment | Sarah Donaldson | $105.00 | Mallory McKewen |
| Ad Design by Nika Parsoni | Mallory McKewen | $115.00 | Marlene Zabel |
| Picard's Peanuts Gift Box - Cardinal | Carrie Farr | $32.00 | Melanie Grey |
| Chocolate Treats Gift Basket | Sherrill Tisdale | $48.00 | Melanie Grey |
| Breeding: Canadian Dinero | Lori Sprigings | $680.00 | Pam Hart |
| Lesson: Dewar Performance Horses | Andrew Dewar | $40.00 | Pattilynne Clayton |
| DOLMAR Line Trimmer | Jessica Lange | $250.00 | Sarah Donaldson |
| Lesson: Kathryn Stanton | Kathryn Stanton | $50.00 | Shana Charpontier |
| Virtual Lesson: Trail with Robin Frid | Robin Frid | $175.00 | Shana Charpontier |
| Bracelet | Sheryl Chillson | $19.00 | Sharron McClelland |
| Picard's Peanuts Gift Box - Deluxe | Carrie Farr | $52.00 | Sharron McClelland |
| Virtual Lesson: Katy Jo Zuidema | Katy Jo Zuidema | $150.00 | Sheryl Chillson |
| Comfort Zone Drum Fan | Ken McLellan | $100.00 | Suzanne Pickard |
| | | $4,710.00 | |