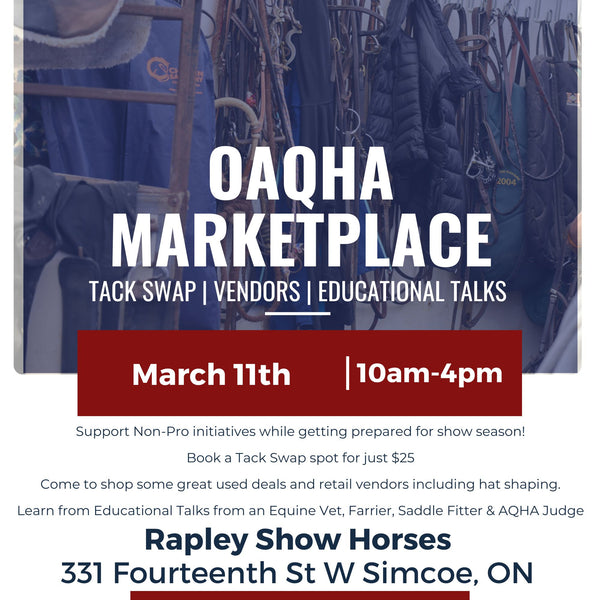 OAQHA Marketplace: Tack Swap, Vendors & Educational Talks
Mark your calendar for March 11th from 10am through 4pm! 
The Ontario Amateur Association is hosting the first annual OAQHA Marketplace at Rapley Show Horses: 331 Fourteenth Street West, Simcoe ON. 
This is a great opportunity to mingle in a laidback environment before show season, learn, sell your used items, and stock up on supplies. 
Tack Swap 
Book your spot for just $25! Great opportunity to sell off items that are collecting in your barn or basement. Tack Swap spots will be limited and first come first served. The link to reserve your spot will be posted at 5pm Friday February 17th. Please note that you must bring your own table. 
Vendors
The vendor list is growing, but as of now a few great local vendors are confirmed! 
Ricky Ramey Hat Shaping 
and more
If you're interested in vendor or advertising space, please reach out to OAQHA President, Mallory McKewen at oqhamallory@gmail.com 
Educational Talks 
We have some great sessions lined up! 
The cost is just $25 for a Tack Swap spot. There will be no formal cost to attend and we encourage all to come on out! Donations for OAQHA Non-Pro initiatives will be accepted at the door, but it is not mandatory to donate to attend. 
We look forward to seeing you there!