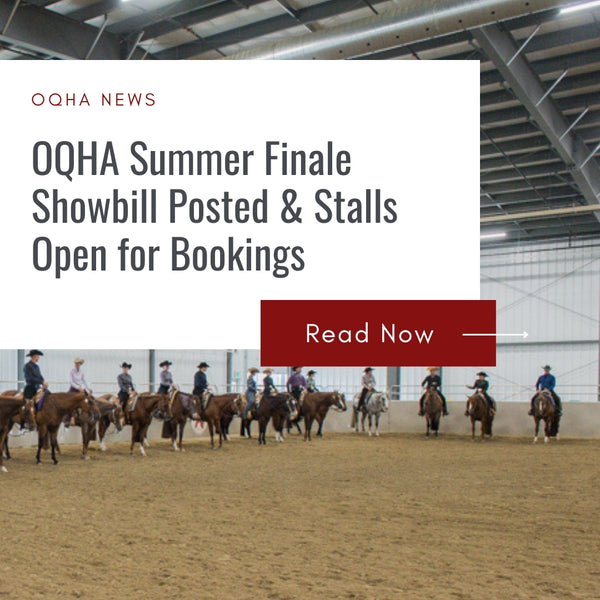 Summer Finale Showbill & Bookings
The OQHA Summer Finale is scheduled for August 30th to September 3rd 2023 at the beautiful Ancaster Fairgrounds.
There will be 5 Judges: Kathy Boggetta, Derek Hanscome, Robin Griggs-Clarke, Gretchen Mathes, Kim Myers
As a pinnacle event and the last Ontario QHA show of the season, the Summer Finale will have many great Special Event Classes. These classes offer great competition, recognition, payback and prizes! 
It's sure to be a show you won't want to miss. 
Green Horse Non-Pro
A green horse is defined as a horse that had less than 25 AQHA (or other breed association) points as of January 1, 2023 in that event. 
$500 added Green Horse Non-Pro Showmanship
$500 added Green Horse Non-Pro Horsemanship
Ranch
$500 added Ranch Rail
$500 added Ranch Riding
NSBA
NSBA classes are open to all stock breed horses who are registered with the National Snaffle Bit Association. If a horse was not previously registered with NSBA or transferred to the current owner, those processes can be completed on the NSBA website. 
Trail
$1000 added NSBA All Age Non-Pro Trail
$500 added NSBA Green Trail
$500 added NSBA Open Trail
Halter
$250 added NSBA Open Geldings
$250 added NSBA Open Mares
Longe Line
$500 added NSBA Yearling Longe Line 
Hunter Under Saddle
$500 added NSBA Green Hunter Under Saddle
Western Pleasure
$500 added NSBA Green Western Pleasure 
OAQHA Provincial Championship
Note: Exhibitors must qualify to compete in the Provincial Championship Finals. See more details here. 
Provincial Championship Non-Pro Showmanship
Provincial Championship Non-Pro Horsemanship
Provincial Championship Non-Pro Equitation
See full show details & book your stalls on the Summer Finale page linked here.