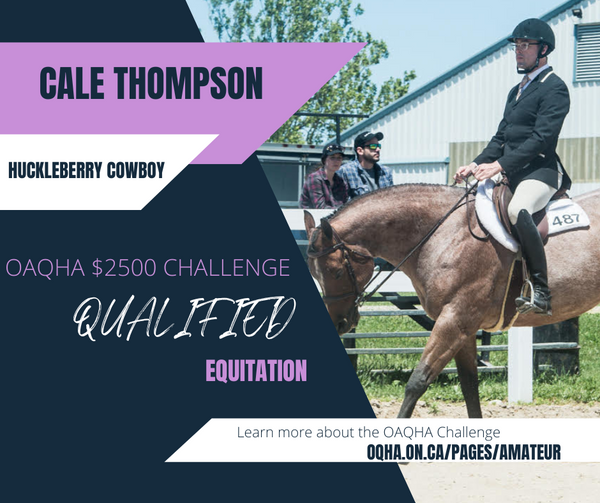 Cale Thompson & Huckleberry Cowboy
As one of the Top 3 Non-Pro scores from the Area 1 June Show, Cale Thompson and his horse Huckleberry Cowboy have qualified for the OAQHA $2500 Challenge Finals in Equitation! 
Read on to learn more about Cale & "Bear"
About the Horse:
Huckleberry Cowboy, affectionately known as "Bear" is a 2015 gelding by RL Best of Sudden and out of an Open Range/Huntin For Chocolate mare. 
About the Exhibitor:
Cale is an Amateur exhibitor who has been riding for 25 years and showing performance horses for 15. He began showing at the OQHA shows in 2017. 
About the Team: 
Bear and Cale are a new team, just having joined up in December 2021. Cale shares, "We haven't had much time together to gather many accomplishments but excited to see where we go."
Interested in learning more about the OAQHA Challenge and how you can qualify for the Finals (to be held at the OQHA Summer Finale)? Click here for more details. 
Sincere thank you to the Canadian Quarter Horse Association for making this initiative possible.