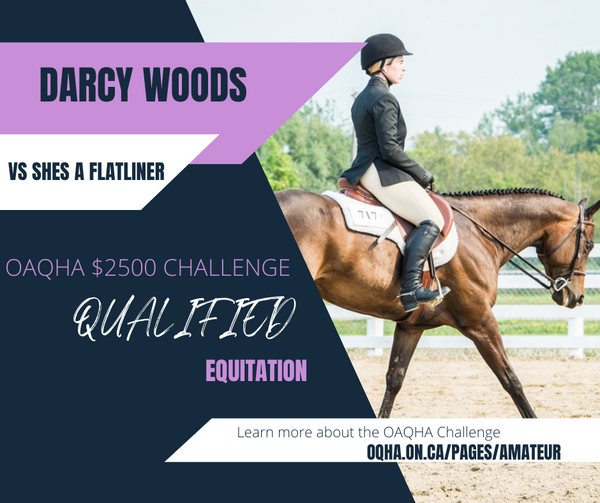 Darcy Woods & VS Shes A Flatliner
As one of the Top 5 Non-Pro scores from the Area 3 Summerama, Darcy Woods and her horse VS Shes A Flatliner have qualified for the OAQHA $2500 Challenge Finals in Equitation! 
Read on to learn more about Darcy & "Betty"
About the Horse:
VS Shes A Flatliner, affectionately known as "Betty" is a 2015 mare by VS Code Blue and out of a mare called Its A Sure Thing. She's a bit of a misnomer being by Code Blue with a Flatline name!
About the Exhibitor:
Darcy is an Amateur exhibitor who has been riding since she could sit up and began showing in the lead line classes at age 5. She was previously our OQHA Queen and now holds the prestigious title of Congress Queen.  
About the Team: 
Betty and Darcy have been a team for 5 years now. Their biggest accomplishment to date was winning the Amateur Showmanship on all 4 cards at the Area 3 Spring Classic. Darcy shares, "I had never unanimously won a class before and we have a lot of really talented Amateurs in Ontario, so I was realy proud of that accomplishment."
Interested in learning more about the OAQHA Challenge and how you can qualify for the Finals (to be held at the OQHA Summer Finale)? Click here for more details. 
Sincere thank you to the Canadian Quarter Horse Association for making this initiative possible.