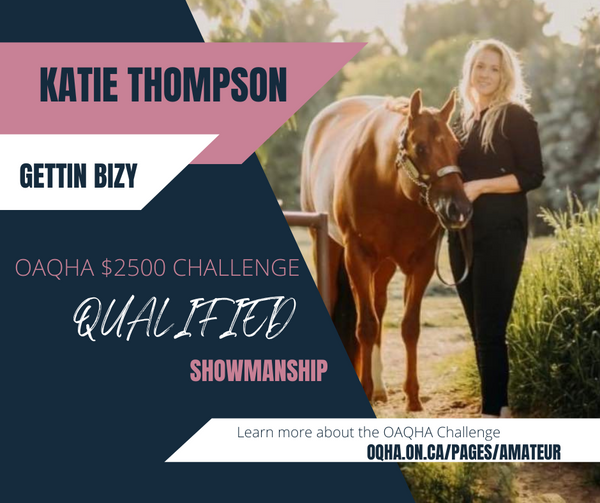 Katie Thompson & Gettin Bizy
As one of the Top 5 Non-Pro scores from Area 3 Summerama, Katie Thompson and her horse Gettin Bizy have qualified for the OAQHA $2500 Challenge Finals in Showmanship! 
Read on to learn more about Katie & "Finn"
About the Horse:
Gettin Bizy, affectionalty known as "Finn" is a 2016 gelding by A Gettin Impulsive and out of an Invitation Only mare, Ms Poison Ivy. 
About the Exhibitor:
Katie is an Amateur exhibitor who has been riding for 23 years, of which she has been showing performance horses for about 13. She only began showing at the OQHA shows a few years ago.  
About the Team: 
Katie and Finn have been a team for 3 years, but due to COVID they are just getting started with their show partnership! Qualifying for the OAQHA Challenge Finals is one of their biggest accomplishments to date. Katie shares, "Since Finn and I area new developing team in the all around our biggest achievement has been executing the patterns with accuracy. Finn and I couldn't do any of this without the support, training and coaching of Mike Rapley of Rapley Show Horses. His countless hours and patience with us has allowed us to accomplish our goals so far this year!"
Interested in learning more about the OAQHA Challenge and how you can qualify for the Finals (to be held at the OQHA Summer Finale)? Click here for more details. 
Sincere thank you to the Canadian Quarter Horse Association for making this initiative possible.