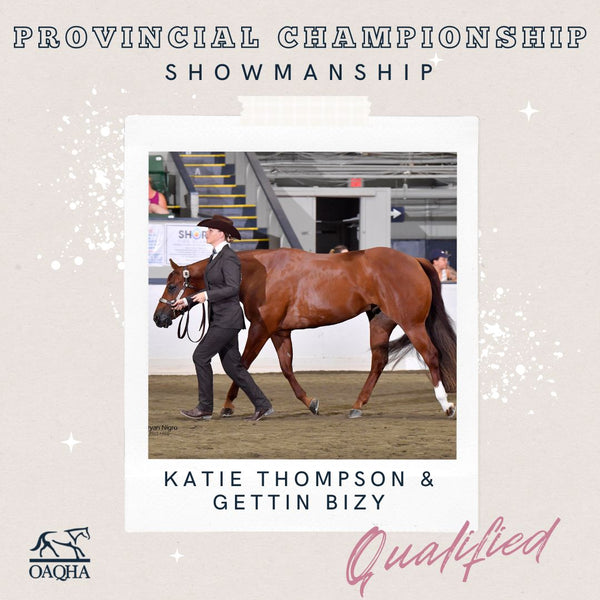 Katie Thompson & Gettin Bizy
The Horse
Gettin Bizy, or "Finn", is a 2016 gelding by Gettin Impulsive and out of an Invitation Only mare named Ms Poison Ivy. When asked for something unique about Finn, Katie shared "Finn loves strawberry lemonade 
 he will drink it right from your hand if given the opportunity"
The Exhibitor
Katie has been riding for 24 years, 14 of which she's spent focusing on performance horses. She's been showing solely AQHA for the past 5 years. When asked about her favourite event she responded "I don't know that I have a favourite event, but with Finn I enjoy all of them"
The Team
Katie bought Finn in 2019, so most of their partnership has been through Covid. They began showing in the all around events in 2022. Katie enjoys and is proud of Finn in general, "Finn has been an amazing teammate for me and in only a short time has really proven himself to always be there for me. My proudest moment so far really isn't a specific moment at all but it is the growth we have both had in our pattern events."
Katie & Finn were our 2022 Showmanship Champions! We are all eager to see them attack the big challenging patterns as a team again this year. 
Katie's excited for the Provincial Championship because "I look forward to the opportunity to show the larger patterns and have fun with fellow Canadian competitors and the opportunity to compete against those that we don't get to because of division differences or regional differences."