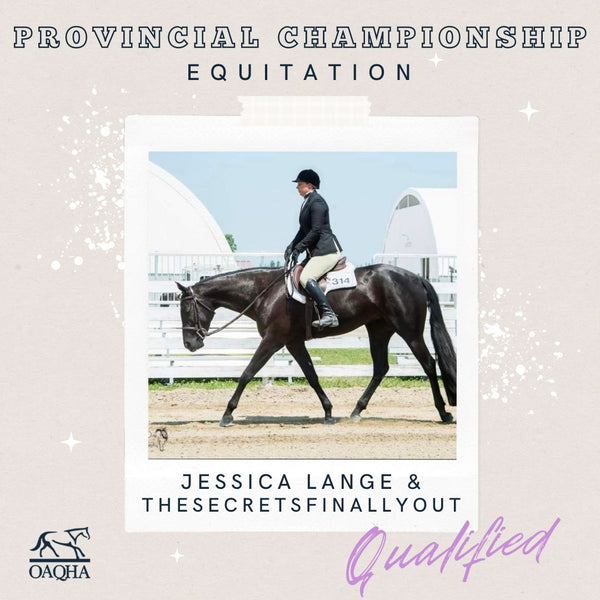 Jessica Lange & Thesecretsfinallyout
The Horse
Thesecretsfinallyout aka "Molly" is a 2020 mare by Designed By Secret and out of Object Of Art. Jessica and her family bred Molly right here in Ontario. At the age of 3 she is Provincial Championship Finals bound in all three events! 
When asked for something unique about her horse, Jess responded "Molly got her registered name as she was born 6 weeks past her due date (the secret was finally out as to what was being held captive lol)"
The Exhibitor
Jess has been a familiar face at the OQHA shows since her young youth days, 35 years ago. She's been riding for 38 years having started at just a couple weeks old with her mom (Sharon Hammer). Her favourite event? "Western riding hands down! but trail is becoming a close second."
The Team
Having bred Molly, they've been a team since day one. When asked about her proudest moment Jess responded, "I wouldn't say I have a proudest moment as of yet. However I am very proud of how Molly is handling everything that has been thrown at her this year in her first year of showing and doing the all around events at that."
When asked what she's most looking forward to about the Provincial Championship, Jess shared that it's "seeing how far Molly has come this year by comparing how she handled her first patterns of the year to how she will be able to handle a bit more of a challenging pattern. Also bring able to show against exhibitors from different age groups we don't show against every weekend."