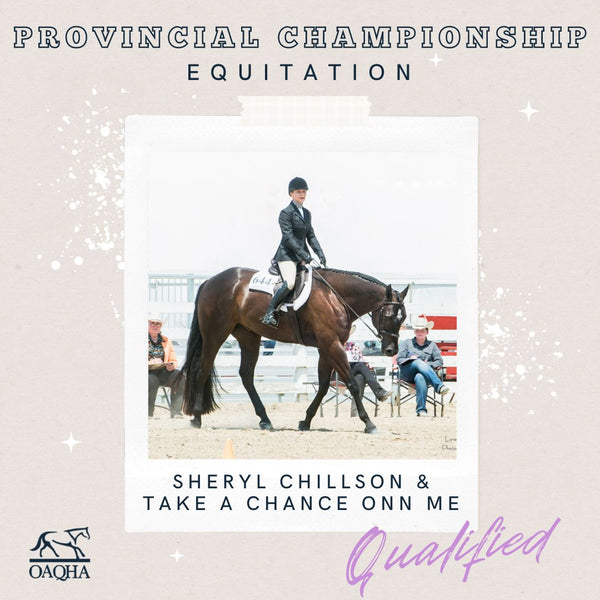 Sheryl Chillson & Take A Chance Onn Me
The Horse
Take A Chance Onn Me is a 2019 gelding by Good Better Best and out of Totally Innocent. He was bred by Rod Jeffries here in Canada, and the mare Totally Innocent now has two horses in the Finals! A fun fact about Dooley? "We had initially seen Dooley as a weanling as he was living at a farm with one of our weanlings.  He kept following us around the pasture and 6 months later we purchased him."
The Exhibitor
Sheryl has been riding for 44 years and showing AQHA for 35. Her favourite event is Hunter Under Saddle but it's followed closely by the Hunt Seat Equitation!
The Team
Sheryl started showing Dooley in 2023, so this is his first season! She shares, "we kicked off his show career by attending the Virginia Maiden.  We showed in the 3 & Over Maiden HUS with top trainers and horses in the industry.  It was his first experience in a coliseum and with a large audience.  We were a little nervous but settled into a nice ride overall.  We went on to be a point earner at that show in the Select HUS with a deep group of exhibitors/horses.  I could not have been more proud of his efforts for the first time in the show pen."
Sheryl is looking forward to the Provincial Championship Finals, "Ontario has such talented competitors, I feel honoured to have qualified for the Provincial Championships.  I enjoy the camaraderie of talking to my peers about a pattern event and celebrating each other's great rides!"