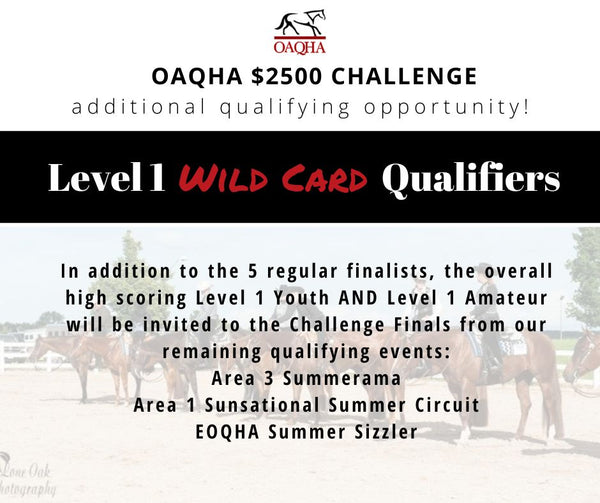 Additional Qualifying Opportunity for OAQHA Challenge
CHECK IT OUT! Extra qualifying opportunity for Level 1 Youth AND Amateur competitors.
At each of our remaining qualifying events (Area 3 Summerama, Area 1 Sunsational Summer Circuit, EOQHA Summer Sizzler) we will invite two additional competitors to the Challenge Finals (where $2500 will be awarded!!) The high scoring Level 1 Youth & high scoring Level 1 Amateur will receive an invitation to the finals, in addition to the 5 qualifiers through the regular criteria.
This will apply in all 3 Challenge events: Showmanship, Horsemanship, and Equitation.
*We do still encoruage Level 1 eligible exhibitors to compete in their regular Youth/Amateur/Select class in order to have more chances at qualifying (under the regular criteria, the Top FIVE scores will be invited back to the finals from the Youth/Amateur/Select, plus an additional ONE from the Level 1 Youth and Level 1 Amateur
**If the high scoring Level 1 has already received an invite, we'll move down to the 2nd high score, etc.