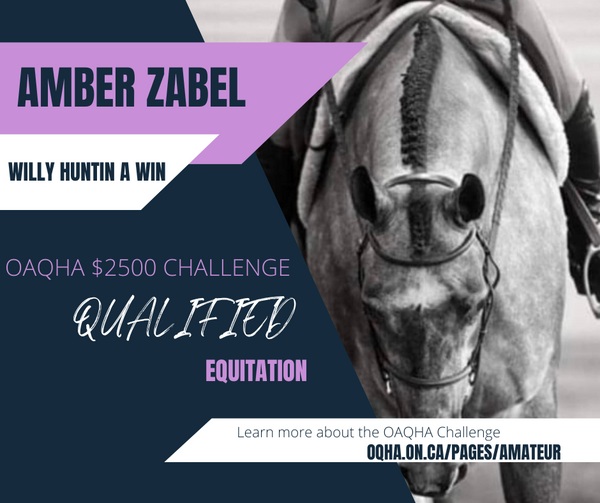 Amber Zabel & Willy Huntin A Win
As the top L1 Amateur score from the EOQHA Hot Hot Sizzler, Amber Zabel and her horse Willy Huntin A Win have qualified for the OAQHA $2500 Challenge Finals in Equitation. 
Read on to learn more about Amber & "Loretta"
About the Horse:
Willy Huntin A Win, affectionately known as Loretta, is a 2018 mare by Winnies Willy and out of Erins Grape (TB)
About the Exhibitor:
Amber is a (newly graduated to) Amateur exhibitor who has been riding since the age of 4.5 and showing since age 6. She formerly served as our Youth (OQHYA) President for a few years!
About the Team: 
Since qualifying, Loretta has found a new teammate in Amanda Yates. Of their partnership, Amber shares "due to Covid we haven't got a chance to show too much together but recently Loretta and I won the Non Pro All Age HUS at the EOQHA Summer Sizzler which is our greatest accomplishment."
Interested in learning more about the OAQHA Challenge and how you can qualify for the Finals (to be held at the OQHA Summer Finale)? Click here for more details. 
Sincere thank you to the Canadian Quarter Horse Association for making this initiative possible.