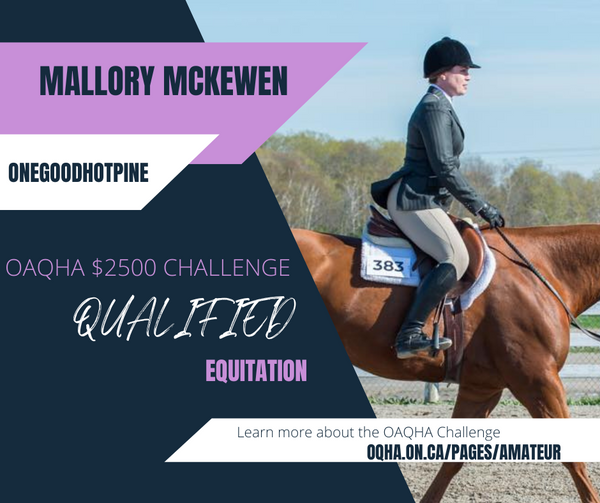 Mallory McKewen & OneGoodHotPine
As one of the Top 5 Non-Pro scores from the Area 2 Spring Kick-Off, Mallory McKewen and OneGoodHotPine have qualified for the OAQHA $2500 Challenge Finals in Equitation! 
Read on to learn more about Mallory & "Cletus"
About the Horse:
OneGoodHotPine, affectionately known as "Cletus" is a 2012 gelding by Zippo Hot Pine and out of a Zippos Mr Goodbar mare (Good Bars Miss Daisy). 
About the Exhibitor:
Mallory is an Amateur exhibitor who grew up riding and showing quarter horses, starting in leadline events at the EOQHA shows.  She also had a brief stint riding Hunter/Jumper horses and ponies on the side. Throughout university she bought and sold Quarter Horses in order to keep showing, and she is now excited to be settled in her career and able to keep Cletus as a teammate long-term. 
About the Team: 
This is Mallory and Cletus' fourth year as a team, though Cletus had a health scare in 2021 which caused him to be on rest for a full year. Mallory is so excited to have her teammate back, with her most proud accomplishment thus far being a Top 10 finish at the Congress in Trail in 2019. 
Interested in learning more about the OAQHA Challenge and how you can qualify for the Finals (to be held at the OQHA Summer Finale)? Click here for more details. 
Sincere thank you to the Canadian Quarter Horse Association for making this initiative possible.