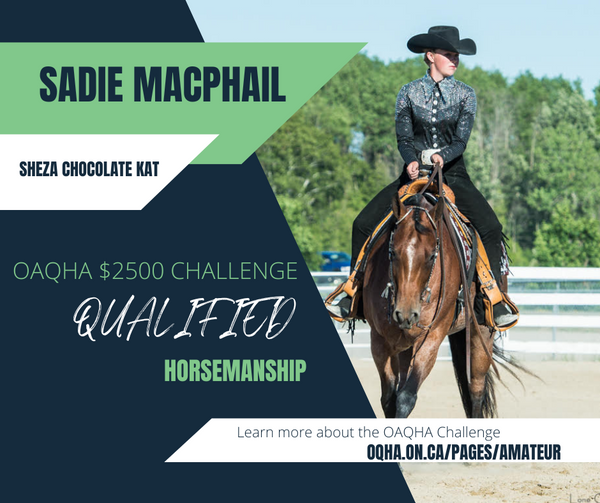 Sadie MacPhail & Sheza Chocolate Kat
As the high scoring L1 Youth from Area 3 Summerama, Sadie MacPhail and her horse Sheza Chocolate Kat have qualified for the OAQHA $2500 Challenge Finals in Horsemanship! 
Read on to learn more about Sadie & "Frosty".
About the Horse:
Sheza Chocolate Kat, affectionately known as "Frosty" is a 2013 mare by Good Bars Kat and out of a mare called Sheza Frosty Dee. 
About the Exhibitor:
Sadie is a Youth exhibitor who has been showing quarter horses since 2018, but has been riding since she was 5. Prior to showing quarter horses, Sadie competed on the paint horse circuit for 3 years and attended numerous local club shows in her area. 
About the Team: 
Sadie and Frosty have been a team for 5 years under the guidance of Jamie Gardy, and both began their AQHA journey together in 2018. They have grown and learned a lot since their first show season together. They ended their 2019 show year as finalists at Congress, and due to Coivid, Sadie and Frosty are looking forward to this being their first full year back in the show ring. 
Interested in learning more about the OAQHA Challenge and how you can qualify for the Finals (to be held at the OQHA Summer Finale)? Click here for more details. 
Sincere thank you to the Canadian Quarter Horse Association for making this initiative possible.