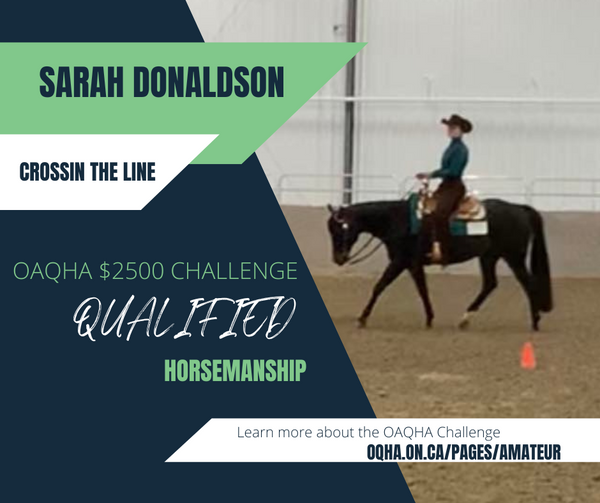 Sarah Donaldson & Crossin The Line
As one of the Top 5 Non-Pro scores from the Area 2 Spring Kick-Off, Sarah Donaldson & Crossin The Line have qualified for the OAQHA $2500 Challenge Finals in Horsemanship! 
Read on to learn more about Sarah & "Walker"
About the Horse:
Crossin The Line, affectionately known as "Walker" is a 2014 gelding by VS Flatline and out of a Zips Chocolate Chip mare (Chocolate Pleasures)
About the Exhibitor:
Sarah is an Amateur exhibitor who has been riding since she was 6 and showing AQHA since she was 13, but took a break while she was in university. Despite not showing at that time, she kept her Quarter Horses closeby and continued to ride. 
About the Team: 
Sarah has had Walker since he was an early 2 year old, and has done all of the training herself. She is thankful to receive guidance and coaching from Jamie Gardy. 
Sarah's biggest accomplishment is how far Walker has come and how hard he tries. In the show pen she is proud to have received scores in the 90s in Horsemanship and high 80s in Showmanship at the Spring Kick-Off and in the OQHA Virtual Show Series. 
Sarah shares, "he's been nothing but apleasure to work with since bringing him home, and often feels more like having a big goofy dog."
Interested in learning more about the OAQHA Challenge and how you can qualify for the Finals (to be held at the OQHA Summer Finale)? Click here for more details. 
Sincere thank you to the Canadian Quarter Horse Association for making this initiative possible.