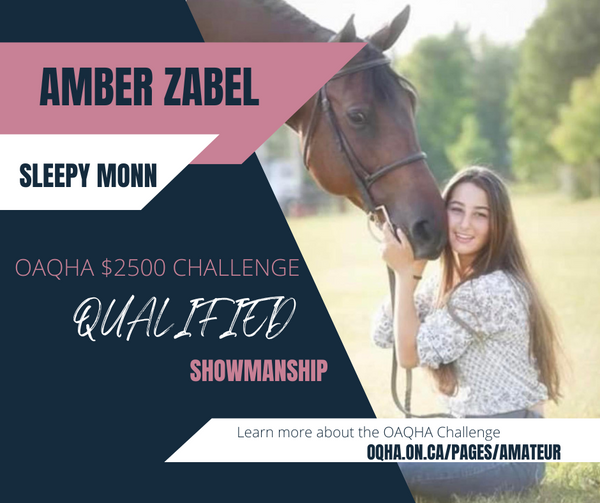 Amber Zabel & Sleepy Monn
As one of the Top 5 Non-Pro scores from EOQHA's Hot Hot Sizzler, Amber Zabel and her horse Sleepy Monn have qualified for the OAQHA $2500 Challenge Finals in Showmanship! 
Read on to learn more about Amber & "Sleepy".
About the Horse:
Sleepy Monn, affectionately known as "Sleepy" is a 2012 gelding by Too Sleepy To Zip and out of a mare called Jamaica Monn (UK Mito Boss). 
About the Exhibitor:
Amber is a (newly graduated to) Amateur exhibitor who has been riding since the age of 4.5 and showing since age 6. She formerly served as our Youth (OQHYA) President for a few years!
About the Team: 
Amber and Sleepy have been a team for several years now. Amber shares, "Sleepy has changed my riding career. I wouldn't be where I am today without the help of my parents and great coaches who found me this awesome horse." Their all-time proudest moment so far has been a 5th place finish in the Trail at the 2019 Congress. Currently Amber is proud of how they've kicked things off in the Amateur events, "Sleepy has continued to try his best and be a rockstar this year, I couldn't have asked for a better start to my amateur career."
Interested in learning more about the OAQHA Challenge and how you can qualify for the Finals (to be held at the OQHA Summer Finale)? Click here for more details. 
Sincere thank you to the Canadian Quarter Horse Association for making this initiative possible.