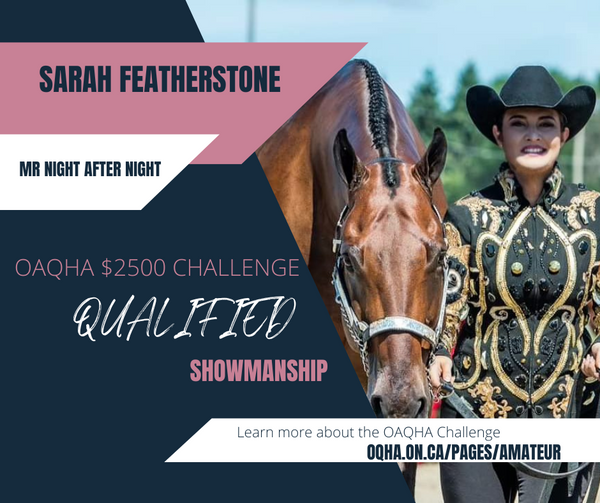 Sarah Featherstone & Mr Night After Night
As the top scoring L1 Amateur exhibitor from EOQHA's Hot Hot Sizzler, Sarah Featherstone and her horse Mr Night After Night have qualified for the OAQHA $2500 Challenge Finals in Showmanship! 
Read on to learn more about Sarah & "Timmy"
About the Horse:
Mr Night After Night, affectionately known as "Timmy" is a 2010 Gelding by Too Sleepy To Zip and out of a mare named I Believe In Dreams. He was proudly bred right here in Ontario!
About the Exhibitor:
Sarah is an Amateur exhibitor who has been riding (first driving minis) for almost 20 years. She has been competing in AQHA events for 5 years. 
About the Team: 
Sarah and Timmy have been a team for about 2 years, but last season was unfortunately cut short with a trailering injury. This is their first full season together! 
The OAQHA Challenge Finals will be held at the OQHA Summer Finale. Click here for more details. 
Sincere thank you to the Canadian Quarter Horse Association for making this initiative possible.