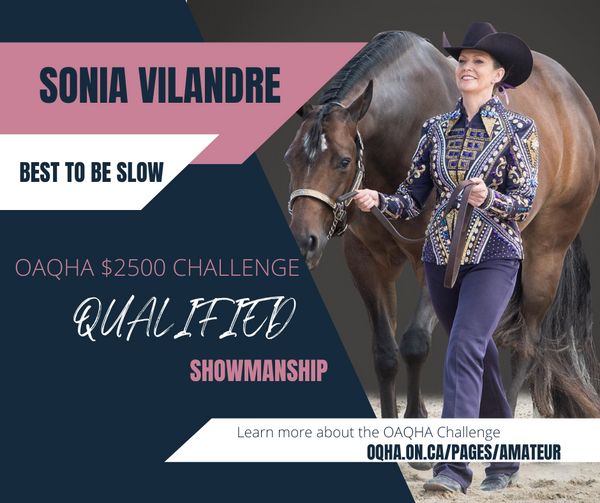 Sonia Vilandre & Best To Be Slow
As one of the Top 5 Non-Pro scores from the Area 2 Spring Kick-Off, Sonia Vilandre & Best To Be Slow have qualified for the OAQHA $2500 Challenge Finals in Showmanship! 
Read on to learn more about Sonia & "Romeo"
About the Horse:
Best To Be Slow, affectionately known as "Romeo" is a 2016 gelding by Lopin My Best. 
About the Exhibitor:
Sonia is a (new to) Select exhibitor who has been showing for about 30 years. 
About the Team: 
Due to Covid, Sonia and Romeo have only been to 4 shows together. The best is yet to come! She is most proud of how good he has become in the Trail, because it was very hard for him. 
Interested in learning more about the OAQHA Challenge and how you can qualify for the Finals (to be held at the OQHA Summer Finale)? Click here for more details. 
Sincere thank you to the Canadian Quarter Horse Association for making this initiative possible.